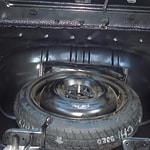 You have the option of choosing from a full-size temporary tire or compact temporary spare tire. A full-size temporary tire is made with a shallow tread depth and lightweight. It has to match the tire specifications for your vehicle. Full-size temporary tires will not interfere with all-wheel drive, traction control or ABS.
It is important to note that this tire is only designed to be used for temporary purposes. Full-size temporary tires will not add a lot of weight to the vehicle. Compact temporary spare tires are smaller than full-size temporary tires. They have to be inflated to a higher pressure.
You have to get a compact temporary tire that has been approved by the manufacturer. Because the tires are smaller, they may interfere with traction control, ABS and speedometer function. If it is time to get your tires replaced, then you should visit the dealership. We wish you safe travels.