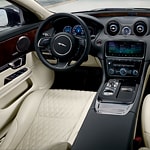 Spacious in concept and sleek in designs, the Jaguar XJ is a comfortable, reliable, luxurious sedan with a huge nationwide following from Tulsa to dozens of other cities. Dubbed a lovely ride and praised as a strong yet lightweight structure in aluminum, the Jaguar XJ boasts eco-efficiency, helpful driver assistance features, and your choice of two sporty, speedy styles. The V6 version is standard at 340 horsepower and 0 to 60 in 5.1 seconds. Whereas, the V8 version is an upgrade to 470 horsepower, 0 to 60 in 4.1 seconds, and supercharged.
As for exterior features, the Jaguar XJ bolsters confidence with a seamless, sensual concept that culminates in a floating roofline and wrap rear windshield. The full headlamps are LED and adaptive to weather whatever, from dark nights to foggy mornings.
The Jaguar XJ is loaded with features to love, but don't take our blurb for it. Take a test drive at Jaguar Tulsa.