THE MOST ADVANCED, EFFICIENT AND REFINED SPORTS SEDAN THAT JAGUAR HAS EVER PRODUCED.


THE SPORTS SEDAN REDEFINED
The style and presence of the XE differentiate it from any other car in its class. This is one extraordinary sports sedan.


BASE MSRP FROM $39,900

XE AND XE R‑DYNAMIC
Define your XE: choose between the XE or the XE R-Dynamic. Experience unique exterior details when opting for the XE, or enhance the sporty feel with the XE R-Dynamic.


PERFORMANCE
Renowned for its dynamic handling, the XE has been enhanced even further. With upgrades to the suspension and revised JaguarDrive Control™, be prepared for a thrilling ride.


TECHNOLOGY

Our optional Touch Pro™ Duo infotainment system offers state-of-the-art entertainment, displayed over two touchscreens. Intelligent technology features enhance your driving experience while you stay connected.5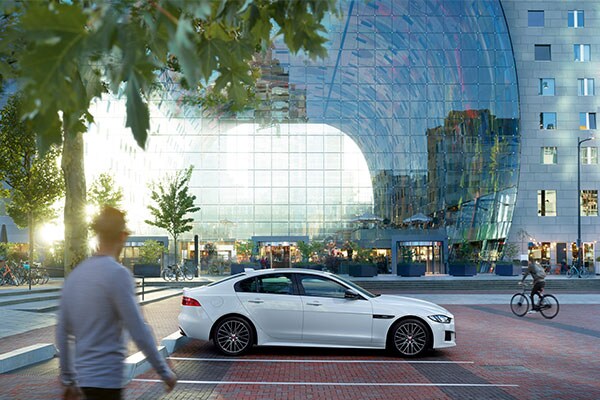 ADAPTIVE DYNAMICS
Whether you're accelerating on the highway, cornering on country roads or navigating around town, the Adaptive Dynamics system in the XE modifies the car's response to match the conditions and your driving style. The system constantly adjusts the dampers to provide the optimum balance between comfort, refinement and agility.4
JAGUARDRIVE CONTROL™
Select your preferred driving style with JaguarDrive Control, offering Comfort, Eco, Dynamic and Rain/Ice/Snow driving modes.4
TOUCH PRO DUO
Partnering a 10" upper touchscreen with an additional 5.5" lower touchscreen, the optional Touch Pro Duo enables dual tasking to cater to your in-car needs. Follow the navigation system on the upper screen without compromising on entertainment, which is accessible on the lower screen.5

Make an Inquiry
1. Price shown is Base Manufacturer's Suggested Retail Price. Excludes destination/handling charge ($995 for XE, XF and E-PACE, $1,025 for XJ, F-TYPE, F-PACE and I-PACE), tax, title, license, and retailer fees, all due at signing, and optional equipment. Total Manufacturer's Suggested Retail Price includes destination/handling charge noted above and may include optional equipment but excludes tax, title, license and retailer fees, all due at signing. Retailer price, terms and vehicle availability may vary. See your local authorized Jaguar Retailer for details.
2. All figures are EPA estimates. Actual mileage may vary.
3. Always follow local speed limits.
4. These features are not a substitute for driving safely with due care and attention, and will not function under all circumstances, speeds, weather and road conditions. The driver should not assume that these features will correct errors of judgment in driving. Please consult your vehicle's owner's manual or your local authorized Jaguar Retailer for more details.
5. Driving while distracted can result in loss of vehicle control. Do not operate, adjust or view the navigation or multimedia systems under conditions that will affect your safety or the safety of others. Only use mobile phones, and other devices, even with voice commands, when it is safe to do so.
6. Please remember that the safety belts in a vehicle constitute the primary protection system for driver and passengers in collisions. Airbags are not designed to deploy in all collisions. The airbag Supplemental Restraint System (SRS) is a supplement to the safety belts and is designed to work as a system with the safety belts. Although airbags provide additional protection, airbags without safety belts do not provide optimal protection in a crash. Always wear your safety belts. Children younger than 13 years old should always be properly restrained in a back seat, away from airbags. Never place an infant seat in the front seat.
7. Do not use Jaguar InControl® features under conditions that will affect your safety or safety of others. Driving while distracted can result in loss of vehicle control. Jaguar InControl has a number of purchasing options that are available. As we systematically roll out the Jaguar InControl suite of products, specific features, options and its availability remain market dependent. Please see your local authorized Jaguar Retailer for more details. The Jaguar InControl Apps™ and InControl Remote™ smartphone apps will work with Android™ devices from version 4.1 and Apple® devices from iOS V7.0.
8. The InControl Protect™ Optimized Roadside Assistance call service requires a subscription, which is complimentary during the first 5 years/60,000 miles.
TRADEMARKS 
Meridian™ is a trademark owned by Meridian Audio Limited. Bowers & Wilkins® is a registered trademark of B&W Group Limited. iPad®, iPod® and iPhone® are trademarks of Apple, Inc. registered in the U.S. and other countries. The Bluetooth® word mark and logos are owned by Bluetooth SIG. Inc. Bluetooth® v2.0 is compatible with a range of mobile phones from a number of different manufacturers. Dolby® and Pro Logic® are registered trademarks of Dolby Laboratories. SiriusXM® and Sirius Satellite Radio® are registered trademark of Sirius XM Radio, Inc. HD Radio™ is a trademark owned by iBiquity Digital Corporation. DTS® and Neo:6® are registered trademarks of DTS Inc. WhiteFire™ is a trademark owned by Unwired Technology LLC. All other trademarks are the property of their respective owners.